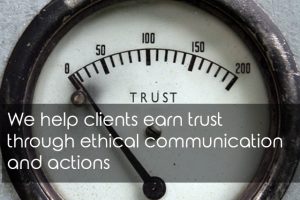 Quick turnaround
We are a small firm. This works in our clients' favour. Devoid of bureaucracy and red tape, we can develop strategy and tactical materials quickly; and we can effect clients' edits quickly.
Faster decisions
Our lean organizational structure allows approvals and decisions to be made instantly, translating into shorter delays from our end. In most instances, clients interface directly with the final decision-maker for a project. Little time is lost processing approvals.
Stronger connection
Our smaller and more focused clientele receive undiluted attention. We strive to know our clients (as professionals and as human beings) and anticipate their needs even before they arise. We are usually just a phone call or email away.
More human contact
We prefer human contact to over-automated contact systems. When clients call Verafluenti, they converse directly with our consultants, with fewer buttons to push to get to the right department. We hope this simple process will help reduce our clients' stress a little.
Fire in the belly
We are new and hungry. This gives rise to newer ideas, fresher concepts and a desire to help our clients stand out from the clutter.