'Tis the season for corporate halos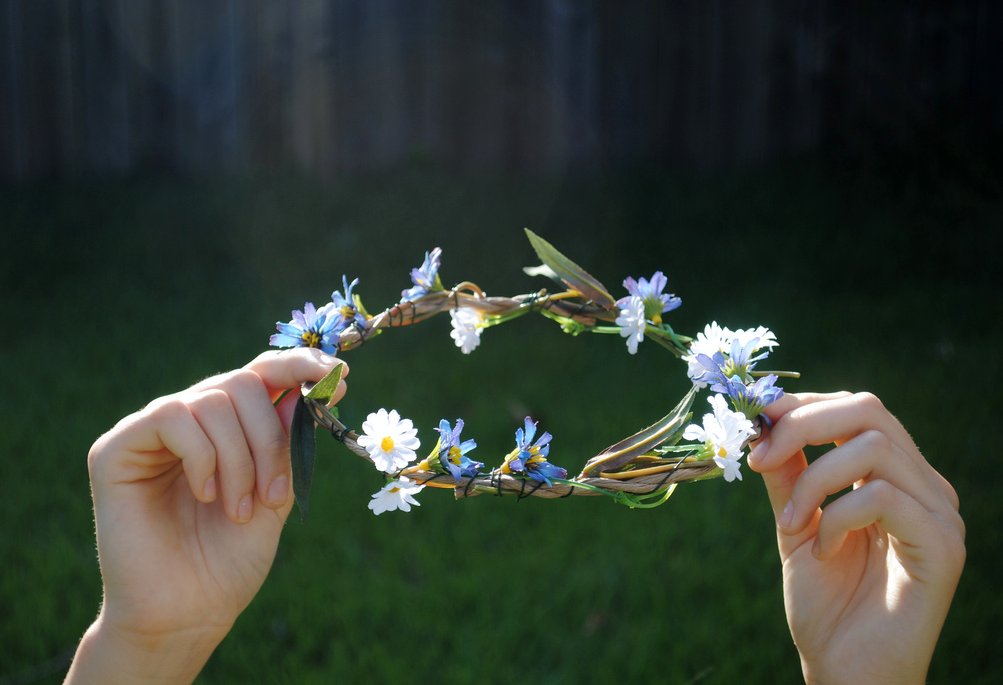 It is perhaps the only time of the year when proclitic words briefly enter the mainstream. When else can one encounter 'tis, 'twas, 'twill and 'twere in such abundance, especially in the phrase 'tis the season for giving?
From a corporate perspective, 'tis also the season for donning halos.
As soon as December turns the corner, many companies try to publicize their image as good corporate citizens. On the bandwagon of charity, they churn out charming stories on their websites and Intranets, in employee magazines; and (when the corporate coffers are brimming) print and television commercials, touting how they are helping the destitute.
Engulfed by such a sappy seasonal clutter in corporate and mass media, one sometimes wonders if the sound of trumpets cannot be discerned – being blown flamboyantly and perhaps a little vaingloriously?
The root motive
The motive for, and the process and manner in which charitable work is done, are worth examining. If either is driven by selfishness and a desire for self-aggrandizement, then the spirit of the act is no longer altruistic but exhibitionistic. The fact that money may flow to a needy cause is but a side-effect not the main effect.
True altruism does not require publicity, nor is publicity a reason for it. An organization works in the community because it is the right thing to do and because it is part of their organizational character.
Now, a PR practitioner would argue that communicating the good actions of the company is required to maintain its image in the community. And that would be true. It is indeed important for a business to nurture goodwill in the communities where it operates. It is one of the primary thrusts of public relations – communicating to develop and sustain good relations with an organization's various publics, of which the community is one.
But building good relations need not always entail a bullhorn.
We are not carping at the community work that companies perform; rather we are curious about the swaggering affectation with which some of them try to extract mileage from it — the patting themselves on the back and labeling themselves good corporate citizens.
And so, in this post, we examine common organizational practices during December and raise some questions for discussion.
Humility endears
Most marketing and PR departments consider it the correct and accepted practice to call up radio stations, television crews, bloggers, and social media boosters, to raise a hue and cry about any charitable work they do.
The idea of doing something with no publicity may be revolting and illogical to them. Conditioned by many a bottom-line-fixated corporate culture, they cogitate incredulously: Why do something when there is no return on investment?
Our answer: Because it is the right thing to do. Because you are first and foremost a human being and a member of an interconnected society, before you are a cog in a corporation or a dropdown tertiary line item in the overhead cost statement.
The funny thing about a good deed done with noble intentions without strutting and clamouring for attention, is that it is talked about anyway. It ends up getting publicity which is led by third-parties who appreciate good work for the community.
Even viewed from a staid marketing perspective, earned publicity is far more credible for reputation than paid or owned publicity.
We just learned in the course of a casual conversation that three generations of a family, that owns a major telecommunications provider, volunteer together at a charity every year. Without pomp or ceremony, they serve food to the homeless and those whose fortunes have withered lately. It is not listed on the business' website. We were told (not by the business, but by someone in the community) that they do this every year and shirk publicity for it. The experience reportedly grounds them and gives them a spiritual contentment that materialism cannot.
Yet here we are, talking about it appreciatively. And maybe one of our readers will share it in their networks.
This is the power of a good deed done with a true heart in a humble unpretentious manner.
The benevolent 'forum' provider
Many a company organizes drives – donations for food banks, charities, shelters and other social causes – in its offices. They believe they are being gracious enough to provide a forum for their employees to open their wallets. Some match employee donations, others don't. But the company takes the credit for the aggregate donation. After all, isn't it usually the senior executives who appear in photos holding the unnaturally-oversized facsimile of the corporate-branded cheque?
Does this not sound a tad unethical – to appropriate credit for the donations of individuals — especially when many companies boast the (cut-and-pasted) value of "integrity"?
Contrary to the doctrine that upholds this corporate Christmas practice, do individuals really require an organization's umbrella under which alone they can be charitable?
Could they not just as easily go directly to the food bank; or even better offer a food hamper to a homeless person they meet on the streets?
People have lives outside their workplaces. They are perfectly capable of volunteering with and donating to causes close to their heart, without being part of a company. There are nonprofits whose aim is to enable such charitable donations. Why cannot employees go straight to them instead of dealing with the middleman?
Dropping items in a donation bin or money in a fundraising jar is convenient. Some can rest satisfied that they have done their bit for the season.
Performing kindnesses firsthand is not as convenient; but it is far more enriching. Serving soup and food at the local kitchen and seeing the guests savour every last bit of warm victuals on a cold wintry night, or gently winning the trust of a trembling rescue dog enough for him or her (they are beings with gender) to creep closer to you, are far more meaningful on a human level – both to the recipient and the giver.
Companies could find a more meaningful way of being of service to the community than providing donation bins and jars for employees and arranging transportation for such donations to charities under the corporate banner.
Divert the 'bragging' resources
If a corporation wants to do something good, let that alone be the guiding motivation. Much money, effort and resources are invested in corporate social responsibility (CSR) advertising. Why not divert them to the actual cause? Instead of bragging about what they did, they would actually be doing more for the cause.
Pray forgive the amplified figures, but honestly, where is the logic in spending half a million in advertising a company's CSR image when it has donated a hundred thousand (of which a significant portion may have come from employees' personal funds)? Why not donate the 600,000 directly to the cause?
The seasonal guilt trip
When examining corporate practices related to Yuletide philanthropy, one cannot help but observe certain habitudes on the other side of the equation – on the part of nonprofits seeking to raise funds.
Few television-watching eyeballs would have missed those advertisements with wretched images – usually of third-world nations. Are we the only ones who find it exploitative on two fronts – first, making a spectacle of someone's grief and heartache; second, using that to make people feel guilty about their own better fortune and to compensate by donating money?
We are not advocating ignoring the real anguish and need in many parts of the world. It is the melodramatic crafty parading of such portraits that we find distasteful. Could they not use words to convey the dire circumstances? Or if they subscribe to the mildewed phrase "a picture is worth a thousand words", could they not use drawings, illustrations or images that preserve the self-respect and privacy of people in distress?
(By the way, we don't always agree with the expression "a picture is worth a thousand words". For those without sight, words are priceless, and a million pictures are worthless).
Instead of negative images and emotional blackmail, could they not talk of the positive impact that people's donations would have – as many nonprofits do in their fundraising advertisements? Why not have messages of positivity instead of abject negativity?
Why always portray people as forlorn victims instead of individuals capable of determining their future if given a leg up?
We are not the only ones who hold this viewpoint. Several nonprofit leaders, advertisers, communicators and just decent citizens have voiced the same concern.
Linda Raftree, co-founder of Regarding Humanity observes that advertisements depicting "hopeless people in poverty" are ineffective in solving the actual issues that charities are seeking to address.
In her own astute words: "They don't empower or create sustainable change".
Empowerment of beneficiaries is the vital element for creating meaningful and impactful charity advertisements.
Tom Gibson's well-crafted article on the subject remarks that people have had enough of guilt-trip advertising. He also notes a turnaround in that "charity advertising is starting to focus on ideas of pride, of love, of growth – all the positive aspects that charitable work can bring."
Perhaps something for communication professionals in such organizations to consider.
The Verafluenti aperçu
Obsession with metrics
Many business scholars have propagated the viewpoint that if something cannot be measured, it does not merit inclusion as a performance indicator of any sort. This opinion has been applied to corporate citizenship as well.
So some companies count the number of hours that their employees have spent in CSR activities. The aggregate figure is announced in the CSR report, annual report, and other collateral.
Our stance is that the quality of service is far more relevant. Counting the number of hours feverishly may serve as a metric of some sort, but it is meaningless in capturing or getting a sense of the spirit and quality of service rendered. Someone may have loitered around at a charity, playing games on the smartphone and chatting on FaceTime. What meaning would the hours spent by such a character have in the context of service?
This is what is termed a measure of implementation not impact. It tells only what was put out, not whether it had an impact for the cause. And in the aforementioned scenario, the very quality of the implementation is unacceptable.
Why the corporate obsession to convert everything and anything into numbers?
And how do you quantify the unquantifiable?
There are qualities in nature – and hopefully in some humans – that cannot and must not be quantified. Kindness, compassion, love for instance. Would managers tally the number of times the word "love" is said, regardless of whether it is said sarcastically, ironically, deridingly, disinterestedly, or menacingly by vicious sociopaths with silky tongues (for details, one could always pick up a copy of "Snakes in Suits")?
A foundation of social service
So what can an organization do in terms of charity? We have some thoughts.
First, let corporate citizenship be a guiding value instead of a nice-to-have. This will have the domino effect of generating a positive effect on society in almost everything that is done. Many companies do this. It would be good for society if more organizations were encompassed by this principle.
The greatest value that a profit-making establishment can offer charities is the green life blood that flows through its corporate veins – money. Companies have the option of donating independently without egging on their employees to part with their funds. What individuals do with their money – whether they donate it or not – is their personal matter, not the company management's. And who is to say that the corporate choice of charity to support is aligned with an individual's preference?
Companies also can invite applications from employees to support charities or causes close to their hearts. After transparent evaluation based on published criteria, management would decide to donate money to some (or all or as many as reasonably possible) of them.
Why is it seasonal?
It has perpetually confounded us why December alone is considered the season for giving (the media and pop culture are largely responsible for cementing this in the public psyche). The inference is that the other months are not seasons for giving. Come January, and there is no talk of giving. That must be the season of resolutions (most of which are broken by the succeeding month, by when it is the season for Valentines).
Why does there have to be a season for being kind and compassionate? Human goodness must be for all seasons. Imagine the state of society and the world if this were indeed the norm.
Let compassion and helping not be confined to the Christmas spirit; let it be part of the human spirit; and, in the case of this post, the corporate spirit.
Happy Christmas, Hanukkah Sameach and a good new year to our readers, clients, friends and fellow human beings across the world.
* * *
This post was written by Raaj Chandran, executive director and chief consultant for Verafluenti Communication Inc.
We solicit your feedback to this post. Please use the "Leave a Reply" form at the end of this (or any other post) to make a public comment, in adherence to our blog etiquette. Or if you prefer, you can email us in private at contact@verafluenti.com.
Print-ready versions of several blog posts are available in our store for a small fee.