'More with less': Cute, crazy and cruel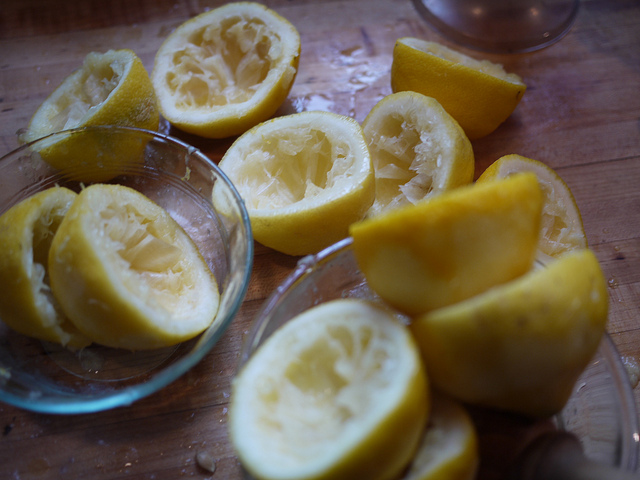 "In these challenging times, we must do more with less and demonstrate the true spirit of our corporation. We will continue to be guided by our core values of integrity, teamwork, leadership, community involvement and our commitment to the well-being of our staff…"
So might ring a familiar message from the top echelons of a corporation when the economy is in the doldrums and pink slips haunt the waking and sleeping hours of employees.
It is clichéd. It can be cut and pasted across corporations. It is self-contradictory.
As this article will attempt to demonstrate, a call to do more with less is inconsistent with the health and wellbeing of people. Simply placing two contradictory statements side by side in one message does not make them congruous.
This incantation serves a dual purpose – as a purported rationale for the people whose jobs have been terminated; and as a tacit warning to people who have escaped the axe (at least this time around) to work to the bone if they hope to remain with the organization in question.
When the economy is in a blue funk, jobs are difficult to come by. With mortgage and bill payments flying incessantly in their faces, people will make sacrifices to keep a source of income. Yet, how many executives actually comprehend the impact of their "do more with less" slogan on the average employee's life?
Mothers yell at toddlers riddled with high fever because they are unable to concentrate on the work overload they have brought home and are tackling late into the night. Fathers miss maiden recitals and special moments in their children's lives. Men forget birthdays and anniversaries (more than usual) and land into trouble with their partners. Women are overwrought with balancing personal lives, families and work.
How can management put a price on such affliction?
Only so much
An individual can at any time only take on a load that his or her limits would permit. Forcing one to carry a heavier load will result in breakage of mental health, physical health, wellbeing and ultimately (of immense interest to corporations) productivity. But of course, in an economic recession, companies have a pool of ready and willing individuals to subject to the same dolour till they break. Human beings then truly become the detestable "human capital" – objects that are replaceable when broken.
The rule of breakage beyond maximum load is easy enough to understand in the case of inanimate machines. But for some inexplicable reason, many in corporate management cannot see — or refuse to see – this holds good for human beings as well.
You cannot make someone do the work normally handled by, say three people, without causing mental and physical damage to that person.
Efficiency is laudable, duress is not
We are not against the idea of minimizing the effort to produce the same output. This is of course the definition of efficiency. And the principle may be worthily applied to processes that people have to handle – so that people can produce superior results with lesser effort. In the equation below, the effort is to enhance the process – perhaps by using technology, alleviating wastage, or reducing bureaucracy — toward this end.
Output/input = Efficiency
But in the case of the "do more with less" slogan, the motivation is hardly altruistic. It is trying to reduce the number of people doing the input to produce — not just the same level of output as was earlier done with a larger number of people but – a higher volume of output. Each employee (or producer of talent and effort) has to be squeezed harder to do the work that was handled by more people.
If this argument holds water, then the slogan in question represents gross inefficiency that is purposely engineered.
Needs must … sometimes
Of course, there are times in life, when any individual has to reach into one's reserves and pull off a superhuman effort. Powered by adrenaline, this is possible … sporadically.
This happens in an organizational context as well. Startups and entrepreneurial ventures require much hard work day after day till the point of breakthrough is achieved. But even in startups (at least the intelligent ones), the chaos is organized and there is a recognition of the need to decompress and unwind. Besides they also have the strong motivation of working for themselves and for something they believe in.
But to expect this day after day – with no break in sight – is unhealthy and inhuman.
There is a trend in many corporations under pressure from a leaden economy. If an employee delivers a heavy task that normally would have been done by more than one person (and sometimes three or four), management sends an email of appreciation, and then promptly dumps more of the same on that person. Purportedly, the logic is that if an employee can do it once, clearly they can do it again, and therefore must be given a larger quantity of the same.
This is a path to a nervous breakdown or a meltdown – you might as well suffuse the background with The Rolling Stones' "Paint it black".
Affront to intelligence
Continuing to use (and abuse) the "more with less" concept communicates a blatant disrespect for employees' intelligence (and the intelligence of any fellow human being because no one is so foolish as to buy into this balderdash).
On the one hand, a company declares that it only recruits the most capable and brilliant people. On the other, it is communicating with its words and actions that they think just the opposite of their employees – they are gullible nitwits who will believe any message put out by management.
One would do well to realize that people are not morons. They know what goes on behind the gloss and veneer. The truth has that uncomfortable quality of being present and of surfacing eventually.
"The truth has that uncomfortable quality of being present and of surfacing eventually."
Trials reveal character
Tough economic phases are opportunities for an organization to show its true colours and sinew of character.
If a company has a choice, why not communicate a decent considerate image instead of that of a ruthless profit-lusting oppressor? If it honestly wishes the latter, then it might as well fire all its ethical communication and public relations professionals, because the company's actions alone will be able to build that simulacrum.
The Verafluenti aperçu
We would like to offer some thoughts on how to get work done in a recession while being kind to employees. Some of these suggestions may require the consideration of pertinent legal implications – such as the minimum wage and corporate law.
Get enough people for the job
Hire or retain enough people at a lower rate. The organization would then have the requisite number of people to get the job done, without being pernicious to life, limb and wellbeing. From the financial angle, the cost outlay remains the same with a lower pay per person. If nothing else, the organization would be spreading a limited income across a greater number of people (and resultantly their dependents).
Another possible route is to hire interns (paid or unpaid) and volunteers to help discharge some of the more routine and labour-intensive work. In many nations, a pool of highly-qualified and talented immigrants is ready to take on any work to break into the local job market. This may not be an ideal solution but is something that could be considered in the short term while riding out the recession. The organization would also be offering valuable work experience for interns, volunteers and new immigrants, while easing the load on existing employees.
Roll up your sleeves
A rough economic patch presents an ideal window for senior managers and executives to remove their fine threads and feathers and step into the frontlines to work shoulder-to-shoulder with junior employees. It would provide another mind and body for the task at hand. It would demonstrate to employees that senior managers are capable of working on the ground. Managers would then learn the real problems and issues people face while discharging their duties. They could also teach and share their experiences with junior employees.
Take a cut at the top
This is far more controversial: let the top executives each take a percentage cut to their income. This would allow the retention of a healthy number of people to perform the job at hand.
It would be a rare show of unequivocal commitment to share in the good and bad fortunes of the enterprise with the average employee. From a PR perspective, how much greater would the stature of such an organization be?
Settle for less
Settle for less profit in favour of human wellbeing. The company may show less net profit in its income statement, and offer lower dividends for its shareholders; but it will reap untold benefits in the long term by way of reputation, earned loyalty and less damage to homes, families and society.
Not to mention the reputation such a company would acquire when it decides to accept a smaller profit in order to keep more people in jobs.
Most merciless actions are justified by holding up the need to appease shareholders. As any business analyst and most laypersons know, the economy moves cyclically through highs, lows and highs again. If the investors have done their research and placed their money in a business they have long-term confidence in, then they will get their returns eventually – it is just a question of waiting for a bit in the interest of the welfare of their fellow human beings.
Help people re-establish
Terminations are sometimes necessary. Unexpected external factors can wreak havoc on a business enterprise to the extent that it is unable to make enough revenue to keep all its original staff. People understand this, particularly in volatile industries.
Once the axe has fallen, many companies outsource career advisory and placement services for terminated employees. This is legal. The companies then have no pending obligation to the terminated employee. But what is legal is not always ethical or human.
So what if…just what if…companies decided to do it (if not in whole at least in part) in-house? Could not senior management use their network of contacts to at least put in a good word to find full-time, part-time or contract work for at least some of their laid off employees. While the human nature of such an action is paramount, the organization may also consider the image that is being communicated to its own employees and its laid off employees, as well as to the community. People would recognize the existence of a company with real character and a true human face instead of a stuck-on smiley-face mask.
One must appreciate that where human beings (and by extension nature) are concerned, it is only possible to "do more with more", or to "do less with less". The former is palatable enough for management in boom periods. It is the latter which is a bitter pill to swallow and the reaction to which is turning a blind eye and pretending it is untrue. Trying to force the "do more with less" illogic on human beings is a recipe for pain and suffering.
Some of the genuine and human facets of life are being decimated with this campaign of fear and covert intimidation. In a sense, it has indeed done more with less: it has caused more harm while expending comparatively less effort.
So ye managers of the world,
Be compassionate,
Be human,
Be genuine,
Be worthy of the half a chromosome
That separates you (and us)
From being chimpanzees.
* * *
This post was written by Raaj Chandran, executive director and chief consultant for Verafluenti Communication Inc.
We solicit your feedback to this post. Please use the "Leave a Reply" form at the end of this (or any other post) to make a public comment, in adherence to our blog etiquette. Or if you prefer, you can email us in private at contact@verafluenti.com.
Print-ready versions of several blog posts are available in our store for a small fee.