"100 Ideas That Changed Advertising"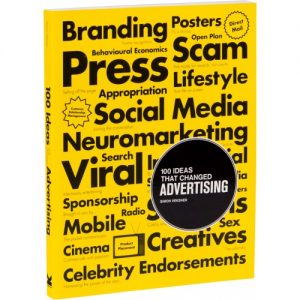 Advertising is always of interest to any PR or communication management practitioner. The discipline allows for immense creativity which has manifested itself in several memorable advertisements over the decades. The creative allure apart, from a PR or communication management perspective, there has always been some overlap with advertising and marketing.
This is little wonder as PR is often referred to as the boundary spanning function, meaning it has to maintain contact, work closely and align its efforts with several other business departments including marketing, people and legal counsel.
PR and advertising campaigns involve similar elements of creativity, graphic design, visual appeal, and a call-to-action, the main difference being that PR aims to build relations and not just make a sale. Both tend to be persuasive in nature, but with different goals. The good relations and goodwill that PR is capable of building can often create a conducive environment for a commercial transaction to take place. But sales are not the main thrust of PR. For more background, please read our post titled "PR, marketing, advertising: Making sense of the confusing mélange".
This interest is what led us to "100 Ideas That Changed Advertising" by Simon Veksner, Creative Director at DDB Sydney, published in 2015 by Lawrence King, London.
It lists, in chronological sequence, the development of commercials through the ages:
The humble poster used by ancient Egyptians and found on walls in the volcanic-ash-preserved ruins of Pompeii; and which continue to this day. In fact in many parts of India, entire walls are sprayed with campaign propaganda during election season.
William Caxton printing one of the first

leaflets

in 1477 offering "Pyes of Salisbury … to any man spiritual or temporal to buy". The "pyes" referred to clerical rules rather than savoury pastries. Leaflets, handbills or flyers endure due to their directness and immediacy.
The Boston News-Letter in 1704 being the

first newspaper to carry advertising

– the first ad offered a reward for the capture of a thief!
James Gordon Bennett's (publisher of the New York Herald from 1835 to 1867) innovation to change ads every day just like the news, prior to which companies often ran the same ad for a year.
The 1842 opening of the

first American ad agency

Volney B. Palmer in Philadelphia.
The founding of the

first full service agencies

by James White in London in 1800; with N. W. Ayer & Son being the first in the United States in 1869.
Catalogues which can be traced back to 1498 when publisher Aldus Manutius released a catalogue of books for sale in Venice.

Topical ads

that relate to a current event or time of the year. One of the longest-running topical ad campaigns is the association of Coke with Christmas. Starting in 1931, magazine ads for Coca-Cola appeared at Christmastime, featuring Santa as a kind, jolly, rotund man in a red suit drinking a Coke. Before this, there had been no set depiction of St. Nick – he was sometimes tall, thin or elf-life. Today when people think of Santa, they think of the image created for him in Coca-Cola's advertising.
Product placement, which began with paid mention for products in 19th century novels, the Lever Brothers placing their soap products in some of the earliest movies in the 1890s, its growing popularity in the 1980s, such as Ray Ban sunglasses featured in Tom Cruise's Top Gun (1986), which generated a 40 per cent increase in sales.
The growth of

slogans

, called endlines or straplines in the UK, or taglines in the United States. The earliest advertising slogan may have been for Ivory soap in 1879: "99 and 4/100% pure". It is revealing to learn that McDonald's "I'm lovin' it" slogan, was in fact created by a German ad agency, Heye & Partner, as "ich liebe es".
Cinema advertising starting as early as 1897. The first known cinema ad featured men in kilts dancing in front of a banner advertising Dewar's Scotch whisky. Advertisers soon got leading directors to produce visceral atmospheric ads such as Michael Mann helming Lucky Star, the 2002 slick cinema ad for Mercedes, that also innovated by screening during the movie trailer sequence and not the ads.
Creative and memorable copy, some of which was written by people who later achieved fame, such as the slogan for a TV ad for cream cakes: "Naughty. But nice." which was written by Salman Rushdie.
The rise of stock photography as an industry in its own right, from Robertstock, founded in 1920, to the now-merged Corbis and Getty Images, which between them have 180 million images, 500,000 video clips, and 50,000 hours of film footage.
The infamous and misguided 1921 prediction by a group of investors: "The wireless body has no imaginable commercial value. Who would pay for a message sent to no one in particular?" And yet, today, 95 per cent of the world's population listens to the radio.
The

first radio advertisement

broadcast in 1921 by WEAF in New York – a ten-minute talk for a real-estate firm, for which the station charged $50.
The birth of jingles in the 1920s during the early years of commercial radio. They used simple repetitive nursery-rhyme-like messages that not only communicated a product's name and message, but also stuck in people's heads. When they became clichéd, agencies turned to pop music in the 1980s such as Pepsi's use of Michael Jackson, Nike's licensing of The Beatles' song "Revolution" in 1987, Microsoft's licensing of the Rolling Stones "Start Me Up", Chevrolet's use of Bob Seger's "Like a Rock". Today brands like Intel, Audi and Philips (or an old favourite, Nokia) are using "sonic brand triggers" to bookend their communication.
The airing of the first TV commercial in the United States on July 1, 1941, during a baseball game, for Bulova watches ("America runs on Bulova time"), which cost $9. Compare this with Superbowl ads which in 2012 cost $3.5 million apiece.
The special event ads produced for Superbowl in the United States and the X-Factor finals in the UK to avail of their unnaturally high viewership. The trend-setter for event ads was the legendary Apple "1984" commercial directed by Ridley Scott.
The development for advertising of creative effects later used in mainstream cinema. E.g. Michel Gondry's "bullet time" effect for a 1998 Smirnoff commercial was used in The Matrix.
The ad industry's Creative Revolution of the 1960s, highlighted by DDB founder Bill Bernbach's essay titled "Manifesto for the Creative Revolution" urging that "good taste, good art, and good writing can be good selling". DDB's ads used humour, honesty, wit and a daringly self-deprecating tone as in the Avis campaign: "Avis is only No. 2 … so we try harder".
The

political attack ad

, which rose to prominence in the 1960s and have continued to become a staple and controversial tool of modern political campaigning. The most famous of these, the "Daisy Girl", was produced for Lyndon B. Johnson's 1964 campaigning.
The increase in ads people are exposed to from 500 a day in the 1970s to 5000 a day today, the resultant fatigue and marketers' efforts to stand out by being more creative or outrageous. E.g. Red Bull spending $30 million to fund Felix Baumgartner's jump from the edge of space, which was watched live by 8 million viewers on YouTube.
Ghost ads made for awards not clients. The most notorious example concerns a Kia campaign by Moma Propaganda of São Paulo, Brazil, which won two 2011 Cannes Lions. The ads had never run and were created by the agency without the client's knowledge.
Online advertising overtaking print advertising in 2012, with an estimated annual U.S. revenue of $39.5 billion.

Interactive advertising

, which allows audiences to control the commercial in some way. Examples include the 2001 interactive "Subservient Chicken" ad by Crispin, Porter + Bogusky for Burger King; and Lynx's use of augmented reality to let consumers "interact with angels" in London's Victoria Station.
Pertinent remarks
The book makes some poignant observations:
As a service industry to business, advertising has changed in response to changes in the business vista – globalization, increasing technological sophistication and professionalization among the influential trends.
Advertising reflects society. It usually does not change it (although we would beg to differ in the influence that advertising can wield on expected social norms). This is why social historians find old ads so interesting. As an example, the wave of liberation of the 1960s was reflected in advertising as it opened up to every race, class and gender.
For the most part, advertising is a mass-market exercise in terms of exposure. Although marketers try to isolate media and vehicles frequented by their target market, they cannot prevent the possibility of exposure to people outside this primary target group. So commercials have to appeal to a mass audience. For this reason, advertising cannot run too far ahead of the popular taste: "It is an enthusiastic co-opter rather than initiator of artistic styles." While art movements like surrealism have deeply influenced the industry, advertising has not of its own influenced art.
The Verafluenti aperçu
By the author's own admission, the book is American and British centric, arguing that while advertising exists in other parts of the world, the epicenter is still New York.
We would observe that, while the headquarters of most major advertising companies may be in New York or London, advertising itself has no nationality. Advertising may have achieved world prominence from its American and European strongholds. But surely it cannot be forgotten that advertising is a marketing tool. Marketing is a business discipline with the purpose of selling a product or service for an exchange of value. Such a transaction is the basis of commerce, which has happened everywhere humans have existed. Therefore we may safely surmise that advertising in some shape or form has existed in all societies.
As a general thought (unrelated to this book), to assume that advertising, PR and communication management all originated in the 240-year-old (as of this writing) United States, and were non-existent in 5000-year-old cultures is erroneous and myopic.
Invasiveness
Advertising is also becoming increasingly invasive, such as the unwelcome ads placed – repeatedly — in the middle of YouTube videos. Watching Katy Perry's perfume ad in the middle of a Buddhist discourse can be both jarring and incongruous.
When considering Internet content, one cannot but help wonder how many gigabytes are taken up by advertising versus actual programming.
In most media, viewers have no choice but to sit through commercials. Of course one can skip channels or hit the mute button – but that does little to recapture the time spent (wasted, some would say) on commercials. According to TV Week, a one-hour segment on broadcast television had about 14:30 minutes of commercials, with the figure even higher for cable channels.
YouTube allows viewers to skip most ads after five seconds, but non-skippable in-stream ads force viewers to endure the whole ad (ironically, these ads have higher recorded abandonment rates).
The wealthy have the option of paying more for commercial-free premium channels.
All this comes across a bit like a hostage and ransom situation.
Plummeting quality
Compared to the 1980s and 1990s, at least in North America, the overall quality of advertisements seems to have dropped, to the point of treating audiences like morons who have to be spoonfed the buying decision.
There are still awe-inspiring commercials, but in our humble opinion, the proportion of poor commercials far outweighs the good ones.
For every British Airways campaign — from the 1989 epic Face ad to its more recent emotive short-filmesque Fuelled by Love — there is HTC's Hold the Crown rap video farce, PS3's creepy Baby commercial, Dodd's Furniture's pathetic take on Star Trek with its poor graphics and even worse make-up, Quiznos' grating Spongemonkeys fiasco, and Canada's very own Oliver Jewellery disaster.
Recall and reject
This also highlights the process where an ad is so bad that it is memorable enough for the audience to associate the ad with the brand; but leads to the audience actively rejecting purchase of that brand out of disgust and irritation.
The Ohio Ricart car dealership ads from the mid 1990s are still rancid in memory as are the more recent TV commercials for Advertising Standards Canada (ASC) Truth in Advertising, and Dollarsdirect.ca.
Manipulating societal norms
The stereotypes of men and women in commercials are also cause for concern. If ads are to be believed, then all men are Neanderthals who constantly barbecue, swim in tankards of beer, eat unhealthy food, watch video games and sports, and have low IQs; while women are obsessed with furniture, perfumes, chocolates, clothes and shoes and constantly act selfishly expecting to (and, in the ads, usually do) get away with devilish acts wearing the most angelic smiles.
Advertisers may argue this is just creative license. But this could also be viewed under the microscope of agenda-setting theory at which point such depictions may have the power to influence how people expect they should behave, and soon such behaviour becomes the accepted cultural norms.
In fact, today companies like McDonald's, Unliver and Volkswagen are reportedly using neuromarketing – originally developed for medical purposes – to scan consumers' brains to see what they are feeling and thinking when viewing ads. Marketers use this information to refine advertising messages to best affect consumers to behave in their desired way. This veers into the dangerous territory of manipulation.
One cannot help wonder whether the right use (from a human viewpoint) for such brain imaging technology is to enable advertising – with its object of selling.
The hard questions
A harder examination – an uncomfortable one for such a cash cow – is whether the goal of advertising itself is beneficial for humanity, and whether this has changed for the better or the worse with time. Does advertising have volition of its own, independent of manufacturers of products, services and positions? Advertising can be creative and strategic, but can it do so outside the confines of sales targets and marketing dictates?
Can it be truly ethical — in its choice of clients, companies and products it represents; in walking the fine line between entertainment and distortion of product features and benefits?
Merely some thoughts and questions that effervesced after reading this very interesting and visually well-laid out book.
* * *
This post was written by Raaj Chandran, executive director and chief consultant for Verafluenti Communication Inc.
We solicit your feedback to this post. Please use the "Leave a Reply" form at the end of this (or any other post) to make a public comment, in adherence to our blog etiquette. Or if you prefer, you can email us in private at contact@verafluenti.com.
Print-ready versions of several blog posts are available in our store for a small fee.