Lessons in communication from the street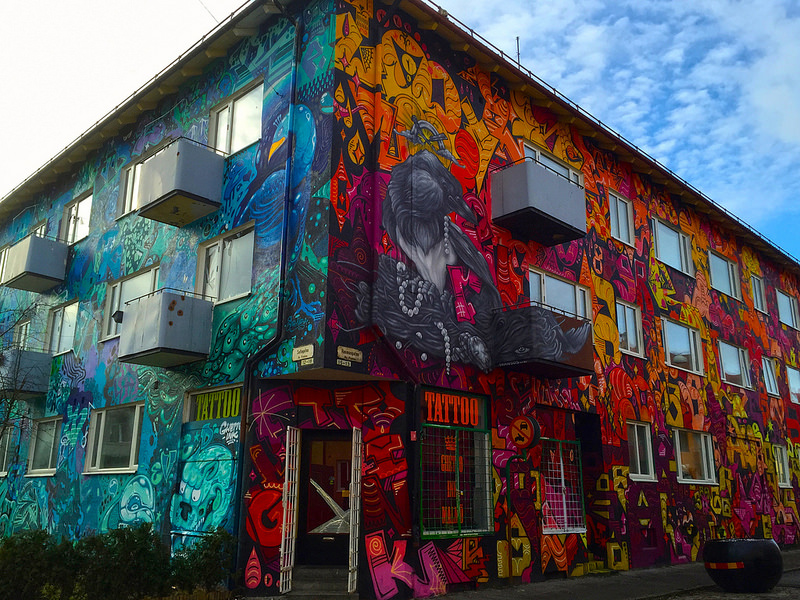 It is said there is no university and no teacher better than life itself. Word!
Some of the most striking and creative lessons in communication come from the street.
The street: This is the frontline, where your ideas are brutally tested by the pavement, the indifference of the time-pressed layperson, and the concurrent pull of multiple competing distractions. It is an unforgiving trial ground where ideas and people either soar or crash-and-burn; it separates the wheat from the chaff.
The 'good citizen' sales pitch
I remember a firsthand example of a brilliant sales tactic employed by a homeless person on High Street. Twenty years later, his pitch is still poignant in memory.
"Don't have a home. Don't have no money. Can't find me no job. Don't want to steal. Don't want to sell drugs. All I need is a happy meal to keep me happy. Just $1.99 is all it takes to keep me from a life of crime. Can you help me out?"
The pitch made students smile and stop in their tracks to talk to the chap, if nothing else. On most days, he managed to wrest enough meals out of his audience to be and look well-fed!
I suspect he took his act to different parts of the city, when he felt one area had been saturated. He may well have been a farmer, leaving land fallow so it would recover its fertility for a later planting and abundant harvest. From a communication management angle, this is not unlike scheduling the message intelligently.
Handwritten attention-grabber
Recently I came upon a lesson in communication from downtown Calgary. These words of clarity and honesty doused in humour were written in chalk on the front of a building in disrepair, right opposite a train station.
Without the well-intentioned but usually paralyzing censorship of the corporate marketing, PR and legal squad, these words had an instant impact, drawing at times a smile, a chuckle, a gasp or an oh-no-you-did-not-just-say-that look.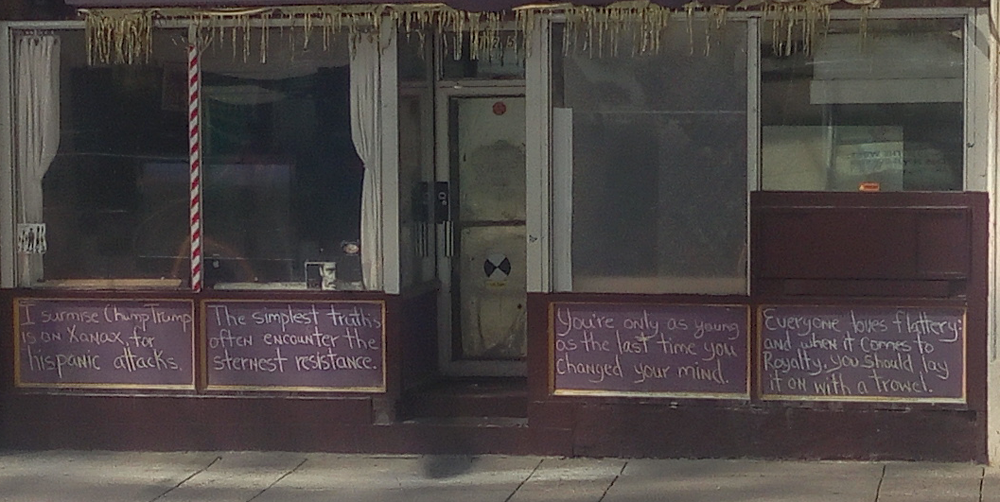 These handwritten messages are probably much closer to the cave art and writings of yore, which are among the first forms of printed communication ("print" is reportedly derived from the Old French word "preindre" associated with the Latin root "premere" meaning "to press" and create an impression).
It is comforting and marvelous to see that, despite hard glass touch screens, social media and virtual reality, the simple friction of a hand-wielded instrument on a surface is still powerful and effective. This basic and primeval form of communication has persisted through the 200,000 odd years that humans have existed on the planet –connecting us with our cave-dwelling ancestors!
I wonder if the same would be said of computers, iPhones and tablets in centuries to come.
Street theatre and wordless pictorials
There is a form of theatre in rural India that performs in street corners and alleys — with little or no props, effects or ambience. The performers rely purely on histrionics, raw sound, dance, and songs — rendered on the most basic instruments not requiring electric inputs or amps – to deliver social messages. In many instances, they break the fifth wall to involve the audiences. It is an art form used to raise awareness of socio-political issues and to instigate change. They work because of the real-life situations they refer to, the vernacular dialect they use, and the music of the street that are familiar to and endear them to their audiences.
These performers often risk life and limb while highlighting truths that are uncomfortable to political autocrats – a consequence which testifies to the effectiveness of their communication.
Many cities in India are using street art to offer a physical and psychological facelift to residents, with conceptual images conveying a recommended action.
On pavements crisscrossing university greens and outside lunch halls and libraries, creative student campaigners have scrawled witty messages in chalk to hook the downward gaze of student pedestrians. Of course this was before smartphones assaulted the senses and turned people into dumb screen-staring robots.
In fact, on many an occasion, such communication may not even require words. A symbol or iconic image and the choice of colours can drive a message hard.
For instance, in several European cities, Internet Samaritans offer free open wi-fi access to all and sundry. In the opening years of this century, such availability was communicated by "warchalking", the practice of drawing symbols in chalk to advertise free hotspots. Now "apps" have steamrolled this quaint nicety as well.
In South America, street art emerged as the primary form of expressing protest, led by the murals of Diego Rivera and Jose Orozco.
Britain's reclusive artist Banksy has spray-painted walls in Barcelona, Bristol, Detroit, Paris San Francisco and Vienna. Starting with graffiti, he progressed to canvas and sculpture, always provoking people to think. (For more information on creative art by Banksy and others, please visit www.artsy.net/artist/banksy)
The Polish duo Etam Cru create large striking colourful surrealist murals that draw on Eastern European mysticism and folkloric symbolism, and are often infused with irony, sarcasm and humour.
In all such instances, heightened true creativity overcomes the limitations of a miniscule budget.
The Verafluenti aperçu
Corporations and its marketing and PR departments can learn much from such examples from the street.
Truth, wit and honesty always win attention. Stale corporate directives clothed in repulsive jargon punctuated with unfunny jokes make no impact, because they are dishonest, pretentious, ambiguous and boring.
Most people won't remember the so-called core values of all the places they worked at, because, let's face it, most of them are the same with a few minor differences.
Most people won't remember the goals and priorities of all their employers, because honestly, they make no difference to most employees who are more concerned about getting a pay cheque in time and paying their bills.
But almost everyone will remember an offbeat, honest, courageous-if-foolhardy email sent to all staff by some millennial. I can recall a few such instances that have since passed into corporate legend, including a hapless new employee's global email invitation to lunch, frequent all-staff emails about food items stolen from the fridge, and personalized mugs that mysteriously moved from the floor of their owners to distant corners of the corporate universe.
Endearing traits of street communiqués
Why is it that these stay in one's memory when the "meeting-the-changing-needs-of-our-clients" pomposity doesn't?
One, they are witty.
Two, they are visceral and as such evoke a visceral (and thereby real) reaction from the audience.
Three, they usually subvert the staid (and artificial) façade of the corporate sensibilities. And secretly, employees love it when the powers-that-be are given a good rattling. Magicians often employ this technique – picking a known authority figure as a volunteer and then tricking the heck out of them, to rousing applause.
The suggestion is not to encourage mutiny or subversion of corporate priorities or sensibilities. Merely that, it is all right to poke fun at yourselves occasionally. It makes senior executives seem more human. And humour, used discreetly and tastefully, is an icebreaker that dismantles your audience's barriers, making them more receptive to your messages.
Four, they make one think. And thinking is an important first step on the journey to impact. We will talk about impact versus implementation measures in another post. But for now, let us just say that impact is what the intelligent communication practitioner desires from a campaign or communiqué.
Five, they are usually not limited by rigid corporate templates, many of which suck the soul and joy out of life.
Street communication is of course prone to the practical limitations of the medium, and the medium itself. But such limitations are physical; they do not hinder the creative spirit. For example, the wall which forms the canvas of a communiqué stipulates physical restrictions of height, width, texture, exposure to the elements etc. But it does not restrict the creativity of content that is born within these physical limitations.
This is a significant point of difference between street communiqués and ineffective templated corporate messages.
Good content moves cross-media
There is also the possibility of content in one medium being promoted in other media.
For instance, when chalk-written messages are photographed and propagated via social media, then what was print becomes electronic and social.
But what motivated the sharing and the crossing over into other media is good thought-provoking content.
It is perfectly feasible for corporations to adopt this idea – encouraging creative expression in one format, and then sharing it in others for a wider reach. However poor content garbed in inaccessible argot will fail in any medium. This is where I would differ from the McLuhian contention that "the medium is the message", particularly in this era. (By the way, the Alberta-born Marshall McLuhan, is a personal favourite for his uncannily accurate vision of the future of media, and the delightful zany pun-filled language he uses.)
The message must be clear, well-crafted and engaging. No medium can truly make poor content effective.
Technology does not constitute content
Many are the companies that tout (with furiously-wagging tails and panting tongues) technology as the holy grail of corporate efficiency. And by technology, they largely mean computer software — manifesting as programs and applications – and related hardware.
They quote, commission and distribute studies, surveys and polls, mongering fear that executives who don't automate every aspect of their business with technology had best prepare a dirge for the early and certain demise of their enterprise.
But one wonders: If technology is the grand panacea and the promised path to corporate paradise, then what happened to the dot coms that were founded on technology? Why did they go bust? Did these technology enterprises not have enough technology?
I view technology as an enabler not the protagonist in the organizational tale. To place it front and centre would be rather batty and ill-conceived.
It would be celebrating the tools of carpentry while forgetting the carpenter whose craft creates articles of utility and aesthetics. It would be like deifying the tubes of oil paint, the paintbrushes and the easel, while erasing the very artist whose creativity produces unique affecting pieces.
Again: Technology cannot make poor content effective.
For those who feel this sounds good in theory, but is not practical for your organizational systems and processes, then as a parting thought, may I highlight this line from the downtown Calgary chalkboard: "The simplest truths often encounter the sternest resistance."
And isn't that the deep and simple truth!
* * *
This post was written by Raaj Chandran, executive director and chief consultant for Verafluenti Communication Inc.
We solicit your feedback to this post. Please use the "Leave a Reply" form at the end of this (or any other post) to make a public comment, in adherence to our blog etiquette. Or if you prefer, you can email us in private at contact@verafluenti.com.
Print-ready versions of several blog posts are available in our store for a small fee.