White space: An essential in communication and life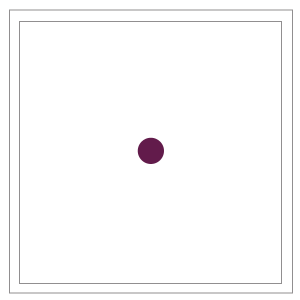 Not an inch of space is to be left unused. Text and images should cover: the page, billboard, print canvas, web space, and all too often, a PowerPoint slide. Voices and sounds should constantly blare the corporate message during every second of radio messages. Graphics, animation and visual effects must occupy every second of TV and web communication.
This is the directive communication practitioners oftentimes receive. Of course, one cannot really blame the folk upstairs. Much like everyone else, they are making decisions using what they know.
Looking at it purely from a financial angle, it might appear logical to conclude that empty space has no return. After all, empty bank and investment accounts usually do not lead to better returns.
Fortunately and aesthetically, the rules of finance do not hold much sway in design.
Any studied practitioner will know – what experience will have corroborated – that PR and communication campaigns need white space and silence to be effective.
Some draw a distinction between "active" and "passive" white space — active being the white space created intentionally for balance, organization and emphasis; and passive the white space that occurs naturally such as the space left out at the borders or in between content. We acknowledge and embrace both.
May we also remark that white space is not always "white". The term merely signifies absence of content in a space that may be infused with a single colour, or a concoction of colours.
Increasingly intrusive barrage
Many executives and managers may believe the way to get messages across is to inundate audiences or publics with them.
Eager to please them, the PR managers (who in such instances function more as technicians than as strategists) try to create new distribution vehicles.
Such a spiral has resulted in several unique (and admittedly creative) formats.
At one point, pre-recorded voicemail messages from senior executives would greet unsuspecting employees when they picked up the phone intending to reach a business client or quite simply do what they were hired to do.
The new-message-indicating red light would refuse to die till one had sat through the 60-120 seconds of artificial-sounding spiel. Few people (save the ones in their probationary period) listened to or even heard (there is a difference) these messages, making them a waste of effort and time for the executives, the PR practitioners and the intended audience.
When the notice board is covered in years' worth of unmanaged layers of stapled-over posters, the practitioners invest in digital signage, applauding the corporation and themselves for adopting a more "sustainable" medium (more on this in another Verafluenti post, coming shortly).
Novelty can pique audience interest for a while. But soon attention wanes and the "new" medium also lands on par with other media that have come before.
Unless good content with good design is issued, addition of new formats will not go very far.
When executives complain that "people aren't getting our message", the distraught PR practitioners put up digital screens in the elevators, the pantries, the lunchrooms, the coffee machine (yes, even the dispenser of your hallowed daily Joe is not immune), and the washrooms.
The day may not be far when messages are beamed in virtual reality into the hitherto sacrosanct peace of one's bathroom stall. Picture yourself being educated in the corporate core values while easing your bowels. Quite the unholy congress, n'est-ce pas?
The guiding idea is seemingly to not allow the poor audience a moment's peace.
Unfortunately for management, this may elicit an undesirable response – of disgust and irritation – causing audiences to tune out, or worse, reject messages. This is similar to the "recall and reject" of annoyingly memorable commercials. Please read the Verafluenti aperçu in our post on "The 100 Ideas That Changed Advertising" for more.
People need their personal space, personal time and white space – which, in communication terms, would translate into relief from the relentless message blitz.
To manage the intensity of message dissemination, campaigns use techniques like pulsing and flighting. While this is significant and helpful in creating a white space relative to an organization's presence in the larger message dissemination scape, it still does not constitute white space or silence within an individual communiqué.
Jarring overload within a frame
White space is required in communication and PR campaigns. It must also be present within each communication piece.
But as above, so below.
The mindset espoused by senior executives influences all aspects of organizational culture, including the design of each printed piece, electronic poster or digital screen.
A single digital screen can simultaneously contain scrolling news bars, weather information, popup sports scores, Flash animations, corporate news and more.
A critical look at the TV screen during a newscast will bear this out. In addition to the above-mentioned elements, most news programs also have a background in constant motion and animation, creating more visual confusion.
Communication and media appear to be propelled by a fear of stillness, white space and silence. It is almost as though they would lose their audiences (and, by the extension of financial motive, their grip on their wallets and purses) if they stopped clanking their pots and pans for even a second.
Attention is constantly diluted, and the eye persistently tired out by so much activity. It is conceivable that, in addition to the dismal quality of TV content and its disproportionately extortionist cost, the lack of a sane space may be pushing more people to cut the cable TV cord.
It's the corporate template
Even seasoned graphic designers have been known to stomach poor design in the name of corporate templates (even though they may be ill-designed by people with no inkling of the discipline).
Well-intentioned practitioners who point out the violation of design principles are met with defeated smiles and an acceptance of "the way things are done here".
Suggesting the implementation of good design and communication principles is sometimes seen as not toeing the company line and as not being a team player.
There is also no dearth of inexperienced, unqualified, yet supremely cocky, self-appointed brand police who will parrot "on brand" and "off brand" without stopping to examine whether the brand itself is founded on valid fundamentals. Such characters do more harm to the organization – knowingly or unknowingly.
Sadly, the specters of bill payment and mortgages can have a depressing effect on the advocacy of proven tenets.
The Verafluenti aperçu
White space and silence offer contrast for the eye and for the ear. They provide a point of reference, which allows the audience to concentrate on the message. In the absence of white space and silence, it becomes difficult to discern where one ends and another begins, in the endless tirade of corporate and commercial messaging.
This example of complete clutter demonstrates how the lack of white space can be jarring and straining to the eye, while also ensuring that no message is retained.
This website for car leasing in the United Kingdom, not content with visual clutter (and web design whose existence is unbelievable in this day and age), also adds syrupy songs on autoplay. Audio clutter on top of visual chaos for a supposedly authentic business!
As salve for your eyes, compare those to the clean layout of this retro VW ad or this Southwest Airlines ad. There is also a reason for Google's minimalist design.
It works.
It is also a reason we keep our Verafluenti design clean and simple. It is why we don't have auto-rotating picture galleries, Flash intros, fancily animated menus, or sticky scrollbars on our website.
White space helps to make visual messages clearer, more inviting and more accessible – which means more people will absorb and understand the message. There will then be real impact, not just dissemination and exposure.
Senior executives are the most powerful cultural influencers in an organization. As such, they can play a role in championing more effective communication practices – such as the use of white space for better design and for better campaigns.
For this, a degree of exposure to the relevant discipline would be helpful. This can be gained through personal study of leading publications in the field, by enrolling in an executive education course, retaining a consultant (such as Verafluenti) to conduct a seminar, or simply (and very cost-effectively) by asking their inhouse PR practitioners to run a session on design principles for senior managers.
The value of emptiness
White space is essential not just for effective and aesthetic graphic design, but also for other facets of life. The most beautiful musical compositions are the ones that contain silence within them.
Emptiness is not a vice to be weeded out.
More than the walls and the roof of a house, it is the empty space within that makes it livable.
It is the emptiness inside a vessel that makes it a useful container.
It is the emptiness that was mathematically captured as "zero" – by Aryabhatta circa the fifth century CE and formally by Brahmagupta in the seventh century CE — that adds value to a number.
Emptiness is openness — to springs of creativity, knowledge from unknown fountains, and virgin world-changing thoughts.
It is also conjectured that the universe was conceived in silence.
The silence of the mind – or the state of no mind – is of course called meditation.
Medical studies and brain imaging sessions have shown that a quiet meditative state is more focused, clear, creative and taps into the brain's massive unused potential.
If it can do so much for an individual human being, why can it not find its (very logical) way into design, the views of senior management, design of communiqués, and the practices of PR managers?
Too much to ask … or simply too commonsensical?
***
This post was written by Raaj Chandran, executive director and chief consultant for Verafluenti Communication Inc.
We solicit your feedback to this post. Please use the "Leave a Reply" form at the end of this (or any other post) to make a public comment, in adherence to our blog etiquette. Or if you prefer, you can email us in private at contact@verafluenti.com.
Print-ready versions of several blog posts are available in our store for a small fee.